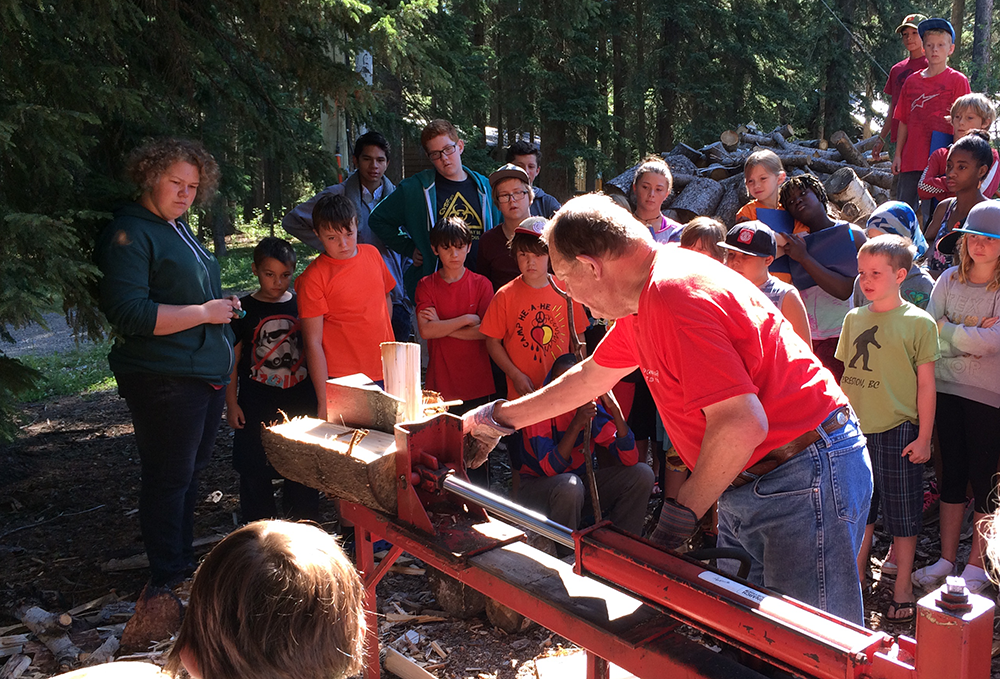 June 22nd

Ron Janzen: An integral part of the Camp Valaqua community

Photo credit: Doug Klassen

Ron Janzen, of Springridge Mennonite, Pincher Creek, has been fundraising for the Camp Valaqua Hike-a-thon for over 20 years, often bringing in the most donations. And yet, fundraising is only one part of his contribution to life at Camp Valaqua.

Although fundraising can be difficult, Ron has a strategy. When asked about being nervous to talk about money, he said he wasn't at all afraid to talk to people, that he simply stops at every farm. He regularly connects with his previous donors and is always open to new sponsors. Ron's strategy is deliberate. He asks, "Are you willing to sponsor me?" He chuckles at this because once he determines willingness, he can go to the next step, but also says, "I don't pressure them." When he was working as a school janitor, he managed to get all the teachers as sponsors but noted with some humour that one would only sponsor him for two dollars which was, in his words, "better than nothing."

Having a goal to raise more than last year for the Hike-a-thon has kept Ron focused. His ultimate goal was to raise $10,000 which he met last year, when COVID caused the Hike-a-thon to take a different format. He was somewhat pessimistic that he'd do so again this year as donations have been slow coming in. Although he did at least part of the planned hikes for many years, his hiking is now limited to multiple laps around his Senior Independent Living Residence. Ron's pride in his Hike-a-thon achievements was reflected in his souvenir T-shirt collection, which he had to part with when it outgrew his space.

Ron began volunteering his time and energy at Camp for the whole summer in 2009, after retiring. His work ethic served him well as he found plenty to do at Camp — painting benches, splitting logs, cutting the grass and trimming paths, while enjoying the social aspect of shared meals and coffee time. Jon Olfert, Camp Valaqua Director, smiles saying that the camp community is good at breaking things and so Ron's job description of "fixing things" is perfect for him.

He became good friends with Rudy Wiens who, also retired, spends summers at camp. Ron enjoys weekends at Rudy's condo in Calgary rather than going back to his home in Pincher Creek. That said, Ron is unsure about going to Camp this year — with his 75th birthday coming up, he may retire from camp work as well. Rudy, however, would love to see him there.

Ron's commitment to Camp Valaqua is more than his stated, "I enjoy doing that because it's a nice place and all the kids are nice. And I enjoy all the people!" His ties to Camp Valaqua began during Camp's early years. He tells stories of going to Camp when he was a kid, of being a camper before there were cabins and of sleeping in a tent or under the stars. He remembers when you had to arrive early to get a good mattress. Latecomers slept on straw mattresses which were prickly!

Like many who spent time at Camp in those years, Ron fondly remembers the Tuck Shop which was open after rest period, a time when a chocolate bar was a real treat. The weekly overnighter was a genuine adventure which included sleeping under plastic lean-tos on pine branches. Even camp food was primitive at times. "I remember someone caught a squirrel one year and cooked it up - the boys said it was good but I didn't try it." Ron has seen Camp Valaqua progress from brushing one's teeth using water from the creek and visiting the outhouse to nicely renovated bathrooms with running water and with dependably decent food.

Tany Warkentin, Springridge Pastoral Leader, recently said about Ron. "He's the type of person that brings joy to people, when he says "Hi" in passing or while staff joke with him around a dining room table. He is a great worker and happy to help out in any way that he can."

Jeff Schellenberg, Camp Manager, reflects with gratitude, "Ron has been a beloved and integral part of the camp community every summer for many years. He's loved and appreciated for the many, many helpful tasks he performs to help keep the place running, but even more for his gentle, good humour and the way he relates to people here. His love of this place shines through in all he does and we have been, and continue to be, blessed to have him here."

We are, indeed, blessed.