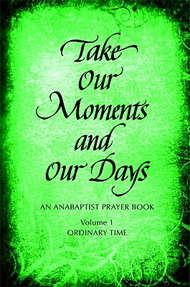 Mon Jun 15, 2020

Daily Communal Prayer
Invitation to daily communal prayer
"Many Christians struggle with prayer. We may not know how or when to pray, what to say, how to start, or when we are finished. Some have never settled into habits of prayer. Others have ceased to pray for a variety of reasons. Because challenges of busyness are pressing spiritual issues today, we may have trouble finding time for prayer. Patterned prayer helps many of us pray - or pray again." (Take Our Moments and Our Days, xii)
Given these realities, some MCA pastors thought up a possible way to join with each other regularly in prayer, using something that many of us have recently become far more familiar with. D
uring the recent global pandemic, many people have been a lot more accustomed to using online video conferencing like Zoom for work or school. So why not use Zoom for communal daily prayer?
We would like to invite congregants from across MCA to join us on Zoom for morning and evening prayer,

beginning June 15, 2020

.
What will guide our prayer?
We are going to pattern our prayer using the great Mennonite-Anabaptist resource and prayerbook, Take Our Moments and Our Days. Similar to the Anglican Book of Common Prayer, Take Our Moments and Our Days was written alongside the lectionary to provide morning and evening prayer, scripture and liturgy. In print, there are two volumes; one for the season of ordinary time and one from Advent through Pentecost. And now recently, both volumes have been compiled into an easy-to-use and completely FREE smartphone app. This should allow accessibility for anyone wanting to participate right away.
When will we pray?
We are still early in this process so even though it is being called "daily prayer," we have limited it to two mornings and two evenings during the week, with the hope that interest and involvement will allow it to fill up the rest of the week. So for now, we will be participating in morning prayer on Monday's and Wednesdays at 7:30 am and evening prayer on Tuesdays and Thursdays at 9:00 pm. After a week of prior testing, these prayer times tend to each last 15-20 minutes.
But how will we pray using Zoom?
There will always be at least two people at each prayer time, a leader reading the regular text and a voice for the people reading the bold text. Because of lag time, everyone cannot be unmuted so everyone will join along with the individual leading the peoples bold text. Reflections on readings will be limited and open prayers during the call to intercession will be silent/personal.


Zoom Information

Some Further Direction:
If you've never used Take our Moments and Our Days before, there are a few things to prepare yourself for going into your first prayer time, especially if you are using the printed books. So before you join, please have a quick read over some of the introductory material that is in both the printed material (pg. ix - 10) and the smartphone app (on home screen under "Introductory Material"). This will hopefully familiarize you with the three movements of each prayer time: Call to Praise, Call to Discipleship, and Call to Intercession.
There are a couple options for certain repeated elements within the prayer books: the Glory, Mary's Song, Zechariah's Song, and the Our Father. As of our start, these are the versions we will be using (adjustments on the smartphone app can be made under "settings"):
"Glory" or "Praise God": Glory
Mary's Song: Pg. 15 in print / "ELLC" on app
Zechariah's Song: Pg. 12 / "ELLC"
All Scripture: NRSV
Our Father: "Our Father who art in heaven," top of pg. 19 / KJV
Ordinary Time Evening song: Mary's Song
Two more things to bring to prayer time if you like: a candle to light, and a blue hymnal. There is a way we have learned to sing the occasional hymns based on recordings through Zoom. So if you would like to sing along, it is suggested that you bring a blue hymnal (or navigate how to borrow one from your congregation).
There will be some additional guidance given before each prayer time, so try to log in a few minutes early each time to hear about those directions.

We are very excited to get this started across MCA and we hope to see many of you join in for a time of prayer, song and scripture.
Pastor Caleb Kowalko and Pastor Werner DeJong